Quality Control System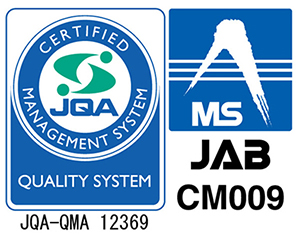 We prioritize product quality control to deliver safe cosmetics to our customers. At our production sites, we make a thorough effort to prevent contamination to maintain the quality of cosmetic production. In September of 2005, the Nara Factory acquired the quality management system ISO9001.
Undergoing inspection of raw ingredients and materials
Raw materials are strictly checked by comparing test results with inspection results. The appearance, color, assembly and display of the materials is also checked against standard products and design drawings to ensure there are no problems.
Hygiene Management
As a hygiene measure, air sterilizing devices and air cleaning units are installed in production and packaging chambers. We strive to stabilize quality by producing products in a clean environment.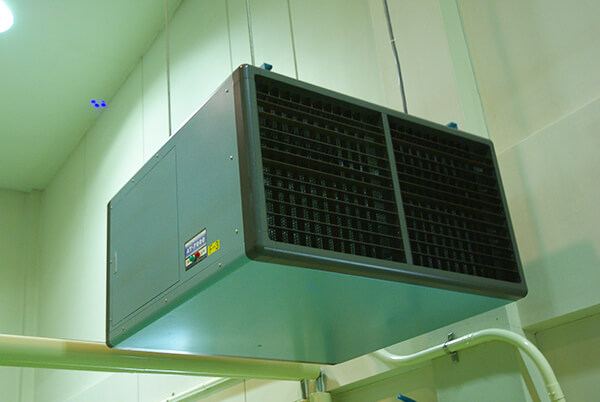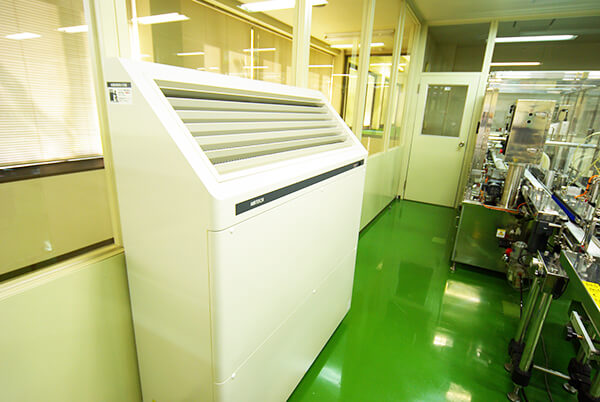 Bulk Quality Inspection
Based on company or customer standards, inspections of appearance, usage impression, ph-values, viscosity, specific gravity and microbes are conducted. For active ingredients in medicated products, we conduct quantity and validity tests.
Filling and Packaging Inspection
We check weight, lot number printing, assembly, display, dirt and scratches by comparing products with standard/specification sheets and standard samples. On the production line, employees in charge of each process carefully check every product and then quality control personnel conduct spot inspections as a double check.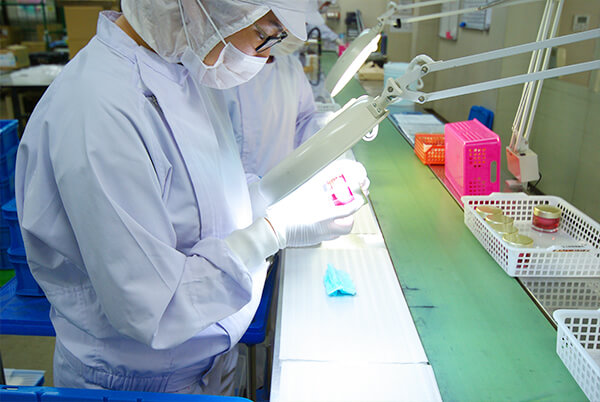 Finished Product Inspection (Inspection prior to shipment)
Finished products are comprehensively inspected again for weight, lot number printing, assembly, appearance and microbes. Only products that have cleared all the checkpoints are shipped.
Bulk products and product samples are maintained in optimum storage condition for five years for quality control purposes.
Production Facility at the Nara Factory
[Production Chamber (Vacuum Emulsification System)]
Our company uses a 300-L open agitator, and 500-L, 250-L and 75-L vacuum emulsification systems and high-pressure emulsification systems to accommodate small to large lots.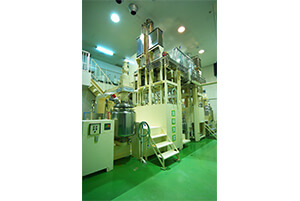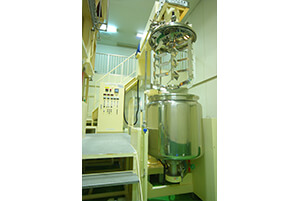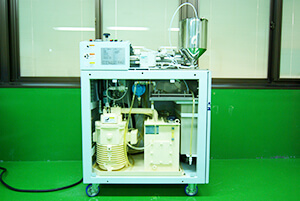 ---
[Filling Chamber]
The filling chamber is fully equipped with a load cell-filling machine to enable control of content volume. The Lotion filler (6 heads/2 heads), cream filler and tube filler (ultrasound seal), and mini sample pouch filler are also in the filling chamber.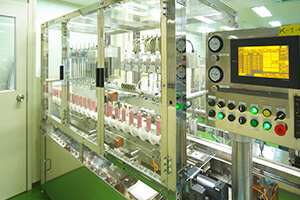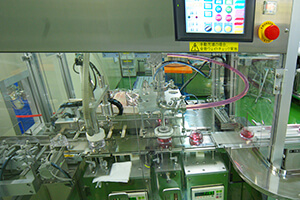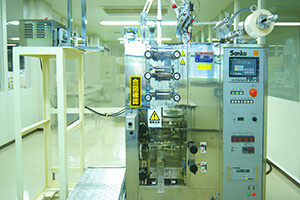 ---
[Packaging Chamber]
We have a facility to accommodate various packaging needs. The facility is equipped with many devices, such as inkjet printers (2 black ink printers/ 1 gray ink printer), an L-shaped shrink device, a shrink tunnel and a bottle labeling machine.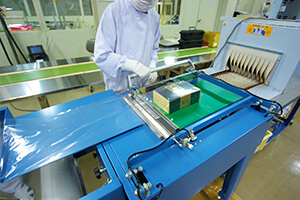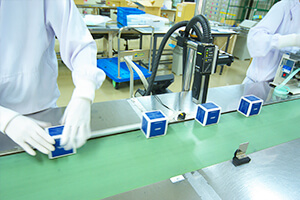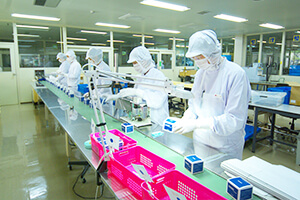 ---
[Quality Control Room]
We conduct thorough inspections in this room from received ingredient inspections, to product stability, general characteristics and microbe tests, before delivering the products to our customers. The room is equipped for high-performance liquid chromatography with a Brookfield viscometer, clean benches, rheometer and PH meter.